John Michael "Ozzy" Osbourne (born 3 December 1948) is an English singer-songwriter whose career has spanned five decades.
Osbourne initially rose to prominence as lead vocalist of the pioneering English heavy metal band Black Sabbath, a band whose radically different, intentionally dark, doom sound spearheaded the heavy metal genre. In his subsequent solo career Osbourne achieved a multi-platinum status in addition to the one he had earned with Black Sabbath. These things are what led Osbourne to become known as the "Godfather of Heavy Metal". Osbourne is ranked 8th on Hit Parader's list of the 100 G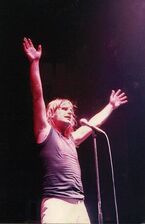 reatest Heavy Metal Vocalists of all time.[1]It was during his Sabbath days (because of their dark style of music, not because he was a satanist) that Osbourne became known as the "Prince of Darkness."Osbourne has over 15 tattoos, the most famous of which are the letters O-Z-Z-Y across the knuckles of his left hand. This was his first tattoo, created by himself with a sewing needle and pencil lead.
Osbourne is currently on a worldwide tour to promote his new album Scream, released on 22 June 2010.
Birth name
John Michael Osbourne
Born
3 December 1948 (1948-12-03) (age 61)

Aston, Birmingham, England

Genres
Heavy metal, hard rock
Occupations
Musician, songwriter
Instruments
Vocals, harmonica, keyboards
Years active
1966–present
Labels
Epic, CBS, Jet
Associated acts
Black Sabbath, Kelly Osbourne, Black Label Society, Firewind
Early life
Edit
John Michael "Ozzy" Osbourne was born in Aston, Birmingham, England, on 3 December 1948. His father Jack worked shifts as a toolmaker at GEC. His mother Lillian worked for the car components firm Lucas.[5][7] John was the fourth of six children (2 brothers, Paul and Tony) and 3 sisters (Jean, Iris and Gillian) living in a small two bedroom home at 14 Lodge Road in Aston, England. The nickname "Ozzy" was first used when he was in primary school. Although called "John" by his first wife Thelma, Osbourne states that it has been a long time since he's recognized himself when called by his formal name.[8] Osbourne grew up dealing with dyslexia and other learning disabilities.[9][10] General abuse from teachers at Prince Albert Road Junior School, and Birchfield Road Secondary Modern School in Perry Barr made his childhood difficult for him. Drawn to the stage, Osbourne took part in school plays such as The Pirates of Penzance. Starting at age 14 he became a great fan of The Beatles upon hearing their first hit single.[5][7] He left school at 15 and was then employed as a construction site labourer, trainee plumber, apprentice toolmaker, car factory horn-tuner and slaughterhouse worker.[5] He spent six weeks in Winson Green Prison when he was unable to pay a fine after being found guilty of burglary of a clothes shop.[5]
In late 1967, Geezer Butler formed his first band Rare Breed with Osbourne. The band played two shows then broke up. Separated for a time, Osbourne and Butler reunited in Polka Tulk Blues along with guitarist Tony Iommi and drummer Bill Ward. They renamed themselves Earth, but after being booked in error instead of a small-time English circuit band with the same name, they decided to change their name again. They finally chose the name Black Sabbath in early 1969 based on a film directed by Mario Bava, starring Boris Karloff.[11] The band had noticed how people enjoyed being frightened, and, inspired, Iommi and his partners decided to play a heavy blues style of music laced with gloomy sounds and lyrics.[11] While recording their first album in a castle, Geezer read an occult book and had a dream of a dark figure at the end of his bed. Butler told Osbourne about the dream and together they wrote the lyrics to Black Sabbath, one of their first songs in a darker vein.
Musical career
Edit
Black Sabbath
Edit
Despite only a modest investment from their US record label Warner Bros. Records, Black Sabbath met with swift and enduring success. Built around Tony Iommi 's guitar riffs, Geezer Butler 's lyrics, Bill Ward 's dark tempo drumbeats, and topped by Osbourne's eerie vocals, early records such as their debut album Black Sabbath and Paranoid sold huge numbers, as well as getting considerable airplay. Osbourne's recalls a band lament, "in those days, the band wasn't very popular with the women."
Just six months after the release of Paranoid the band released Master of Reality. The album reached the top ten in both the US and UK, and was certified gold in less than two months.[13] In the 1980s it received platinum certification[13] and went Double Platinum in the early 21st century.[13] Reviews of the album were unfavorable. Lester Bangs of Rolling Stone dismissed Master of Reality as "naïve, simplistic, repetitive, absolute doggerel", although the very same magazine would later place the album at number 298 on their 500 Greatest Albums of All Time list, compiled in 2003.[14] Black Sabbath's Volume 4 was released in September 1972. Critics were again dismissive of the album, yet it achieved gold status in less than a month. It was the band's fourth consecutive release to sell a million copies in the US.[15][16] In November 1973, Black Sabbath released the critically acclaimed Sabbath Bloody Sabbath. For the first time, the band received favourable reviews in the mainstream press. Gordon Fletcher of Rolling Stone called the album "an extraordinarily gripping affair", and "nothing less than a complete success".[17] AllMusic's Eduardo Rivadavia call the album a "masterpiece, essential to any heavy metal collection," while also claiming the band displayed "a newfound sense of finesse and maturity".[18] The album marked the band's fifth consecutive platinum selling album in the US,[19]. Sabotage was released in July 1975. Again there were favourable reviews. Rolling Stone stated, "Sabotage is not only Black Sabbath's best record since Paranoid, it might be their best ever."[20] Allmusic was not so favorable. They noted that "the magical chemistry that made such albums as Paranoid and Volume 4 so special was beginning to disintegrate".[21] Technical Ecstasy, released on 25 September 1976, was also met with mixed reviews. AllMusic gave the album two stars, and noted that the band was "unravelling at an alarming rate".[22]
Departure from Black Sabbath
Edit
In 1978, Osbourne left the band for three months to pursue interest in a solo project he called Blizzard of Ozz.[23][24] Three members of the band Necromandus, who had supported Black Sabbath in Birmingham back in the day when they were called Earth, did backup for Osbourne in the studio and briefly became the first incarnation of his solo band. At the request of the other members, Osbourne rejoined Sabbath.[25] The band spent five months at Sounds Interchange Studios in Toronto, Canada, writing and recording what would become Never Say Die! "It took quite a long time," Iommi said. "We were getting really drugged out, doing a lot of dope. We'd go down to the sessions, and have to pack up because we were too stoned, we'd have to stop. Nobody could get anything right, we were all over the place, everybody's playing a different thing. We'd go back and sleep it off, and try again the next day."[26] Touring in support of Never Say Die! began in May 1978 with openers Van Halen. Reviewers called Black Sabbath's performance "tired and uninspired," in stark contrast to the "youthful" performance of Van Halen, who were touring the world for the first time.[27] The band filmed a performance at the Hammersmith Odeon in June 1978, which was later released on DVD as Never Say Die. The final show of the tour, and Osbourne's last appearance with the band (until later reunions) was in Albuquerque, New Mexico on 11 December.
In 1979, back in the studio tensions and conflict were present continually. Osbourne recalls being asked to record his vocals numerous times over and over, and tracks being manipulated endlessly by Iommi.[28] This was a point of contention between Osbourne and Tony. With the support of Geezer and Bill Ward, Osbourne was again fired from Black Sabbath. The reasons provided to him were that he was unreliable, and had excessive substance abuse issues as compared to the other band members. Osbourne claims his drug use and alcohol consumption at that time was no better nor worse than the other band members.[29]
Conflict of a sort had existed between Iommi and Osbourne from the beginning. When responding the flyer "Ozzy Zig Needs Gig- has own PA"[30] posted in a record store, Iommi and Butler arrived at the address listed to speak with Ozzy Zig. When Osbourne answered the door, Iommi left upon discovering it was him. He knew of and disliked Osbourne from back in their school days.[8] The band replaced him with former Rainbow singer Ronnie James Dio.[12]
On 18 August 1980, after a show in Minneapolis, Minnesota, Bill Ward was also fired from Black Sabbath. "I was sinking very quickly", Ward later said. "I was an unbelievable drunk, I was drunk twenty-four hours a day. When I went on stage, the stage wasn't so bright. It felt like I was dying inside. The live show seemed so bare, Ron was out there doing his thing and I just went 'It's gone'. I like Ronnie, but musically, he just wasn't for me."[31]
Blizzard of Ozz, Diary of a Madman
Edit
In 1980, under the management of Sharon Osbourne, the Ozzy Osbourne Band formed again as The Blizzard of Ozz. The first line-up of the band featured drummer Lee Kerslake (of Uriah Heep), bassist/lyricist Bob Daisley (of Rainbow and later Uriah Heep), keyboardist Don Airey, and guitarist Randy Rhoads (of Quiet Riot). The record company would eventually title the record Blizzard of Ozz credited simply under Osbourne's name. Co-written with Daisley and Rhoads, the album brought Osbourne considerable success on his first solo effort. The debut sold very well with hard rock/heavy metal fans.[11] Blizzard of Ozz is one of the very few albums amongst the 100 best selling albums of the 1980s to have achieved multi-platinum status without the benefit of a Top 40 single. As of August 1997, it achieved Quadruple Platinum status according to RIAA. The album is known for the globally recognized singles "Crazy Train" and "Mr. Crowley," and fan favorites "Goodbye to Romance," and "Revelation (Mother Earth)."
His second album, Diary of a Madman featured more songs co-written with Bob Daisley. For his work on this album and Blizzard,Randy Rhoads,[11] was ranked the 85th greatest guitarist of all time by Rolling Stone magazine in 2003.[32] This album is known for the singles "Over the Mountain, "Flying High Again," "Believer," and of course "Diary of a Madman." Osbourne explains in his autobiography that Diary is his own personal favorite album.[8]
On 19 March 1982 while in Florida for the follow-up album Diary of a Madman tour, and a week away from playing Madison Square Garden in New York City, a light aircraft piloted by Andrew Aycock (the band's tour bus driver) carrying guitarist Randy Rhoads crashed while performing low passes over the band's tour bus. In a prank turned deadly, the right wing of the aircraft clipped the bus, grazed a tree, and crashed into the attached garage of a nearby mansion killing Rhoads, Aycock, and the band's hairdresser, Rachel Youngblood. On autopsy, cocaine was found to be present in Aycock's urine.[33] Experiencing firsthand the horrific death of his close friend and band mate, Osbourne fell into a deep depression.
Ex-Gillan guitarist Bernie Torme was the first guitarist to replace Randy once the tour resumed. Torme's tenure with the band would last less than one month. During an audition for guitarists in a hotel room, Osbourne selected Brad Gillis (who went on to be one of two guitarists in Night Ranger) to finish the tour. The tour culminated in the release of the 1982 live album, Speak of the Devil recorded at the Ritz in New York City. A live tribute album for Rhoads was also later released. This album would also feature a studio song by Randy taken from studio outtakes called "Dee." It was a song Randy had written for his mother.
Speak of the Devil
Edit
Although difficult, Osbourne moved on after the death of his good friend Randy. Speak of the Devil, known in the United Kingdom as Talk of the Devil, was originally planned to consist of live recordings from 1981, primarily from Osbourne's solo work. Under contract to produce a cover album of Sabbath material, however, the album ended up consisting entirely of Black Sabbath covers, recorded with Brad Gillis, bassist Rudy Sarzo, and drummer Tommy Aldridge. Guitar Player interviewed Gillis. They discussed the live album, how he came to play for Osbourne, and admitted that everyone in the band wanted to rework some parts, but were not given the opportunity. Speak of the Devil was musically left alone. Osbourne later commented (inside the cover of "Tribute") "I don't give a fuck about that album. It was just a bunch of bullshit Sabbath covers."
In 1982, Osbourne appeared as lead vocalist on the Was (Not Was) pop dance track "Shake Your Head (Let's Go to Bed)." Madonna performed backing vocals. Osbourne's cut was remixed and re-released in the early 1990s for a Was (Not Was) greatest hits album in Europe, and it cracked the UK pop chart. Madonna asked that her vocal not be restored for the hits package, so new vocals by Kim Basinger were added to complement Osbourne's lead.
Bark at the Moon, The Ultimate Sin
Edit
In 1983 a new guitarist was recruited to play with Osbourne. Jake E. Lee, formerly of Ratt and Rough Cutt, joined the band to record Bark at the Moon, the first studio effort after the death of Randy Rhoads. The album, co-written with Bob Daisley, featured Tommy Aldridge, and former Rainbow keyboard player Don Airey. The album contains the fan favorite "Bark at the Moon." The music video for "Bark at the Moon" was partially filmed at the Holloway Sanitorium oustide of London, England. Within weeks the album became certified gold. To date it has sold three million copies in the U.S.[34]
1986's The Ultimate Sin followed (with bassist Phil Soussan and drummer Randy Castillo), and touring behind both albums with ex-Uriah Heep keyboardist John Sinclair joining prior to the Ultimate Sin tour. A rich, bold album, it features the US Hit single "Shot in the Dark" and fan favorites "Killer of Giants," "Lightning Strikes," and "Secret Loser." At the time of it release, The Ultimate Sin was Osbourne's highest charting studio album. The RIAA awarded the album Platinum status on 14 May 1986, soon after its release; it was awarded Double Platinum status on 26 October 1994.[35]
Jake E. Lee and Osbourne parted ways in 1987. Osbourne continued to struggle with chemical dependency. That year he commemorated the fifth anniversary of Randy Rhoads death with Tribute, live recordings from 1981 that had gone unreleased for years. In 1988, Osbourne appeared in The Decline of Western Civilization II: The Metal Years and told the director, Penelope Spheeris, that "sobriety fucking sucks." Meanwhile, Osbourne found his most enduring replacement for Rhoads to date — a guitarist named Zakk Wylde. Together they recorded No Rest for the Wicked with Castillo on drums, Sinclair on keyboards, and Daisley co-writing lyrics and playing bass. The subsequent tour saw Osbourne reunited with erstwhile Black Sabbath bandmate Geezer Butler on bass. A live EP (entitled Just Say Ozzy) featuring Geezer was released two years later. Butler continued to tour with Osbourne for the subsequent four tours, and was a major stage presence throughout. In 1989, Ozzy Osbourne performed at the Moscow Music Peace Festival.
No More Tears
Edit
While very successful as a heavy metal act through the 1980s, Osbourne sustained commercial success into the 1990s, starting with 1991's No More Tears. The album enjoyed much radio and MTV exposure. It also initiated a practice of bringing in outside composers to help pen Osbourne's solo material instead of relying solely upon his recording ensemble to write and arrange the music. The album was mixed by veteran rock producer Michael Wagener. Osbourne was awarded his only Grammy for the track "I Don't Want to Change the World" from No More Tears for Best Metal Performance of 1994.[36]
Wagener also mixed the live album Live and Loud released in 28 June 1993. At the time, it was to be Osbourne's final album. The album went platinum four times over,[37] and ranked at number 10 on that year's Billboard rock charts.
At this point Osbourne expressed his fatigue with the process of touring, and proclaimed his "retirement tour" (which was to be short-lived). It was comically called "No More Tours", a pun on his No More Tears album. Prior to the tour Mike Inez took over on bass and Kevin Jones on keyboards as Sinclair was touring with The Cult. Osbourne's entire CD catalogue was remastered and reissued in 1995.
In 1995, Osbourne released Ozzmosis and returned to touring, dubbing his concert performances "The Retirement Sucks Tour". The album reached number 4 on the US Billboard 200. The Recording Industry Association of America (RIAA) certified the album gold and platinum in that same year, and 2x platinum in April 1999.[38] The album features the hard rocking fan favorites "Perry Mason," "Ghost Behind My Eyes," "Thunder Underground," and "See You on the Other Side."
The lineup on "Ozzmosis" was Zakk Wylde, Geezer Butler (who had just quit Black Sabbath again) and ex-Bad English, Steve Vai and Hardline drummer Deen Castronovo, now in Journey. Keyboards were played by Yes's Rick Wakeman and producer Michael Beinhorn. The tour maintained Butler and Castronovo and saw Sinclair return, but a major lineup change was the introduction of ex-David Lee Roth guitarist Joe Holmes. Wylde was debating on an offer to join Guns N' Roses. Unable to wait for a decision on Wylde's departure decision, Osbourne replaced him. In early 1996, Butler and Castronovo left. Mike Inez (Alice In Chains) and Randy Castillo (Lita Ford, Motley Crue) filled in. Ultimately, Faith No More's Mike Bordin and ex-Suicidal Tendencies bassist Robert Trujillo joined on drums and bass respectively. A greatest hits package, The Ozzman Cometh was issued in 1997.
Osbourne's biggest financial success of the 1990s was a venture named Ozzfest, created and managed by his wife/manager Sharon and assisted by his son Jack. The first Ozzfest was held in Phoenix, Arizona on 25 October 1996 and in Devore, California on 26 October. Ozzfest was an instant hit with metal fans, spiralling many up-and-coming groups who were featured there to broad exposure and commercial success. Some acts shared the bill with a reformed Black Sabbath during the 1997 Ozzfest tour, beginning in West Palm Beach, Florida. Osbourne reunited with the original members of Sabbath in 1997 and has performed periodically with them ever since. Ozzfest reinstated the integrity in and familiarity with the band name Black Sabbath.
Since its start, five million people have attended Ozzfest, which has grossed over US$100 million. The festival also helped promote many new hard rock and heavy metal acts of the late 1990s and early 2000s, including Pantera, TOOL, Korn, System of a Down, Drowning Pool, Soulfly, Disturbed, HIM, Mudvayne, Atreyu, Godsmack, Seether, Otep, Dragonforce, Dir en Grey, Slayer, Judas Priest, Mastodon, Anthrax, Trivium, Slipknot, Metallica, Sepultura, Marilyn Manson, Iron Maiden, and Megadeth. Ozzfest helped Osbourne to become the first hard rock and heavy metal star to hit $50 million in merchandise sales.
In 2005, Osbourne and his wife Sharon starred in an MTV competition reality show entitled "Battle for Ozzfest". A number of yet unsigned bands send one member to compete in a challenge to win a spot on the 2005 Ozzfest and a possible recording contract.
Shortly after Ozzfest 2005, Osbourne announced that he will no longer headline Ozzfest. Although he announced his retirement from Ozzfest, Osbourne came back for one more year, 2006, albeit only closing for just over half the concerts, leaving the others to be closed by System of a Down. He also played the closing act for the second stage at Shoreline Amphitheatre in Mountain View, CA on 1 July as well as Randall's Island, NY on 29 July. After the concert in Bristow, Virginia, Osbourne announced he would return for another year of Ozzfest in 2007. Tickets for the 2007 tour were offered to fans free of charge, which led to some controversy. In 2008, Ozzfest was reduced to a one-day event in Dallas, Texas, where Osbourne played, along with Metallica and King Diamond.
Osbourne says he is looking forward to the return of Ozzfest for six dates this summer and is also looking at an 18-month world tour starting at The Leas Cliff Hall in Folkestone on 29 June to promote his new album, "Scream." [39]
Down To Earth
Edit
Down to Earth, Osbourne's first album of new studio material in seven years, was released on 16 October 2001. A live version filmed in Japan, Live at Budokan followed. Down to Earth went gold in 2001, and platinum in 2003. The album features the fan favorite "Dreamer," a song which peaked at number 10 on Billboard's Mainstream Rock Tracks.[40] In 2003, Osbourne recruited former Metallica bassist Jason Newsted after he left the band in 2000 (and Trujillo replaced him on Metallica's lineup). Both Newsted and Osbourne were enthusiastic about recording an album together.
On 8 December 2003, Osbourne was rushed into emergency surgery at Wexham Park Hospital in Slough, England when he had an accident with his all-terrain vehicle on his estate in Chalfont St Peter in Buckinghamshire. Osbourne broke his collar bone, eight ribs, and a neck vertebra. An operation was performed to lift the collarbone, which was believed to be resting on a major artery and interrupting blood flow to the arm. Sharon later revealed that Osbourne had stopped breathing following the crash and was resuscitated by Osbourne's then personal bodyguard, Sam Ruston. While in hospital, Osbourne achieved his first ever UK number one single, a duet of the Black Sabbath ballad, "Changes" with daughter Kelly. In doing so, he broke the record of the longest period between an artist's first UK chart appearance (with Black Sabbath's "Paranoid", number four in August 1970) and their first number one hit: a gap of 33 years. Since the quad accident, aside of some short-term memory problems he fully recovered and headlined the 2004 Ozzfest, in the reunited Black Sabbath.
Prince of Darkness
Edit
In 2005, Osbourne released a box set called Prince of Darkness. The first and second discs are collections of live performances, B-sides, demos and singles. The third disc contained duets and other odd tracks with other artists, including "Born to Be Wild" with Miss Piggy. The fourth disc is entirely new material where Osbourne covers his favourite songs by his biggest influences and favourite bands, including The Beatles, John Lennon, David Bowie and others.
Black Rain
Edit
In March 2006, he said that he hopes to release a new studio album soon with long time on-off guitarist, Zakk Wylde of Black Label Society. In October 2006, it was announced that Tony Iommi, Ronnie James Dio, Vinny Appice, and Geezer Butler would be touring together again, though not as Black Sabbath, but under the moniker Heaven and Hell (the title of Dio's first Black Sabbath album). The response to the news on Osbourne's website was that Osbourne wished Tony and Ronnie well and that there is only one Sabbath.
Osbourne's album, titled Black Rain, was released on 22 May 2007. Osbourne's first new studio album in almost six years, it featured a more serious tone than previous albums. "I thought I'd never write again without any stimulation...But you know what? Instead of picking up the bottle I just got honest and said, 'I don't want life to go (to pieces)'", Osbourne stated in a Billboard interview.
Osbourne revealed in July 2009 that he was currently seeking a new guitar player. While he states that he has not fallen out with Zakk Wylde, he said he felt his songs were beginning to sound like Black Label Society and fancied a change. In August 2009, Osbourne performed at the gaming festival BlizzCon with a new guitarist in his lineup, Gus G of Firewind.[43] Osbourne also provided his voice and likeness to the video game Brütal Legend character The Guardian of Metal. In November, Slash featured Osbourne on vocals in his single "Crucify The Dead," and Osbourne with wife Sharon were guest hosts on WWE Monday Night Raw. In December, Osbourne announced he would be releasing a new album with Gus G (of Firewind), Tommy Clufetos (formerly supporting Rob Zombie, Ted Nugent, Alice Cooper) on drums, and Blasko (formerly supporting Rob Zombie) on bass titled Soul Sucka. Negative fan feedback was brought to Osbourne's attention regarding the album title. In respect of fan opinion, on 29 March Osbourne announced his album would be renamed Scream.
On 13 April 2010, Osbourne announced the release date for Scream would be 15 June 2010. The release date was later changed to 22 June. A single from the album, "Let Me Hear You Scream", debuted on the 14 April 2010 episode of CSI: New York. The song spent 8 weeks on the Billboard Rock Songs, peaking at #7. Other songs from the album include "Let it Die," "Digging Me Down," "Fearless," and "I Want it More."
Osbourne held a Meet-And-Greet album signing at the main branch of HMV in his home-town Birmingham, followed later that day by an intimate show in the Birmingham Town Hall. The first four hundred fans that arrived at the store earlier in the day were given wrist bands, enabling free access to the show.
Ozzy Osbourne has been awarded several times for his contributions to the music community.
In 1994, he was awarded a Grammy Award for the track "I Don't Want to Change the World" from Live & Loud for Best Metal Performance of 1994.
In 2004, he received an NME award for "godlike genius".
In 2005, he was inducted into the UK Music Hall of Fame along with the other members of Black Sabbath. Osbourne mooned the crowd because of their poor reception while they were playing.
In 2007, Osbourne was honoured at the second annual VH1 Rock Honors, along with Genesis, Heart, and ZZ Top. In addition, that year a bronze star honouring Osbourne was placed on Broad Street in Birmingham, England while Osbourne watched. On 18 May Osbourne had received notice that he would be the first inductee into The Birmingham Walk of Stars. He was presented the award by the Lord Mayor of Birmingham. "I am really honored," he said, "All my family is here and I thank everyone for this reception – I'm absolutely knocked out".
In 2008, Osbourne was crowned with the prestigious Living Legend award in the Classic Rock Roll of Honor. Past recipients include Alice Cooper, Lemmy, Jimmy Page and Slash, the former Guns N' Roses guitarist, presented the award.
In 2010, Osbourne won the "Literary Achievement" honour for his memoir, I Am Ozzy, at the Guys Choice Awards at Sony Pictures Studio in Culver City, California. Osbourne was presented with the award by Sir Ben Kingsley. The book debuted at No. 2 on the New York Times' hardcover non-fiction best-seller list.
Discography
Edit
Band members
Edit
Recording timeline
Community content is available under
CC-BY-SA
unless otherwise noted.