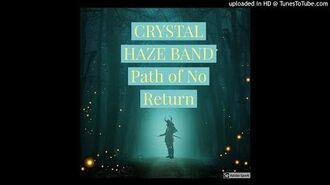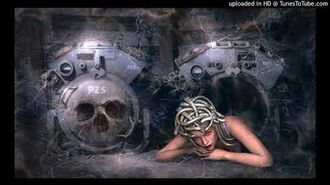 CRYSTAL HAZE BAND: The Legendary Progressive Rock Band from Decatur IL , from 1975 to the present day....still writing and recording and performing. Started in the late summer of 1975, in Decatur Illinois, USA, as CRYSTAL HAZE BAND, this was originally a hard rock group playing cover versions of bands like Rush, early Kiss, and Led Zeppelin. In August of 1975 the original lineup of the group was: Greg Bickers (Lead guitar and Vocals); Bob Prust (Bass Guitar and vocals); Rick Beaman (Drums); Dirk Tucker (Guitar); and Mike Lambert (Lead Vocals). But with the departure of founder guitarist Dirk Tucker in January of 1976, and his replacement by guitarist/vocalist Dave Ellis at that time, things soon changed. (Ellis had been playing in bands in Decatur IL in high school since the early 1970's; mostly with a band called LEGEND, through high school, a band which at one time briefly included Jeff Klaven; later to become the drummer with Swiss supergroup KROKUS) and also in Legend was Tim Bailey, later of Bethlehem Steal and Russian Roulette. Ellis says: " I was sitting in study hall in senior year of high school at MacArthur High, and the guy across from me says you play guitar dont you. My cousin Greg Bicker's band just lost their other guitar player. He then proceeded to throw me the phone numbers of these guys, and a couple days later, I was auditioning for Crystal Haze Band, doing Anthem and In the End by Rush, and Train Kept a Rollin and Somebody by Aerosmith, and Strutter and All the Way by Kiss. And I remember doing the Alex Lifeson solo on Working Man that day. I jammed with them that one afternoon and they let me in the band. We were all still in high school, except for Beaman. Me and Greg Bickers were Seniors. I was at MacArthur and he was over at Mt. Zion. Bob Prust was a year younger than us, and he was at Eisenhower High School. That was in January of 1976. I had just written the song Truth of the Ages that week." The stand-up singer (Mike Lambert; from the band. GUNSMOKE) left a few weeks later, and higher ranged, louder vocals were then taken over by Lead Guitarist Greg Bickers, and softer vocals by Lead Guitarist - Songwriter  Dave Ellis. The Original songs began to pour out from Ellis, and were quickly incorporated into the band's repertoire, and ranged from mostly heavy tunes with lots of fast lead solos (unique for that early of a time), down to acoustic psychedelic folksy sounds. Drummer Rick Beaman left to devote more time to his family, and was replaced by Mike Stevens of Mt. Zion IL. After a few months of intense songwriting, plans began to take shape for an album of all-original songs written by Dave Ellis; a few were songs that the band had been already playing at school dance gigs and proms (Truth of the Ages; Stop; and D.N.J.) Others like FLAME were brand new. Keyboard player Brian (Bryant) Minks was then added. Financed by Dave Ellis (with his college funds), a first album was professionally recorded from April 77 to July 1977 at Macon Tracks Studios in Decatur IL, and released in August 1977 on the Sirus Records label; simply as "Crystal Haze". A firend of the band's, Tracey Bublitz, from Co-op Records; had a connection with A & M Records, through going to parties with major artists with the Midwest Rep of A & M Records; Lyn Evanko from St. Louis. Dave Ellis got Tracey to take a copy of the album and push it at Evanko during a meeting with Peter Frampton. Evanko was elated with the sound of the album, and immediately contacted the band, and Herb Alpert and Sergio Mendez at the LA offices of A & M. Crystal Haze Band was suddenly catapulted from being an obscure band in Decatur IL to being regional celebrities; with airplay on the FM dial round-the-clock. The band's album was promoted by A & M Records; who distributed it nationally to all the major radio markets, the band experienced a sudden meteoric Midwest popularity from the radio play of FLAME and JANUARY. Attendance at concerts suddenly swelled, and even stage mobbing scenes began to occur. After doing a protracted nationwide radio blitz, A & M unfortunately did not sign the band onto a retainer. (After that disheartening event, the band began to experience numerous personnel changes; with Bickers going on to Russian Roulette, and then Clockwork Orange. Dale Ross went on to the First National Band. Bob Prust moved to Oxford Mississippi to attend University there. Dave Ellis continued on with a string of musicians; utilizing Dave Ward on vocals to take Greg Bicker's place, and then after Ward left; Ellis took over Lead Vocals on a short tour of the Southeastern States; and then shared lead vocal duties between himself and drummer Keith Greene - no relation to the gospel singer.) But the first album (on the SIRUS Records label); has proved to be one of the most sought-after indie rock albums in history, with individual copies still selling for around $900.00 a copy on the original label. Subsequent (inferior pressings) of bootlegs have appeared on the illicit British label Acid Nightmare Records on vinyl, CDs, and digital downloads. The original remains a sought-after audiophile collectable. (One has to only look at the wild prices at the Rockadrome Records website to see the truth of this). Keyboard player Brian (Bryant) Minks was accidently tragically killed in a horrible railroad accident in early 1988. Then In 1990; while the band was based out of Branson for a couple of years; the first record experienced a sudden second round of popularity,(thanks to A & M leaving copies of the album in Baltimore Maryland, where it suddenly took off again like wildfire and started ansensation among audiophile catalogs; and began to circulate internationally among audiophiles, from America to Japan to Europe to Russia. Demand for the recordings suddenly went through the roof again. Ellis saw the viability of continuing Crystal Haze Band in perpetuity permanently; while often moonlighting with other live acts and recording projects doing session work in Branson and Lake of the Ozarks; and in Arkansas. (For many years the band had been struggling on, recording a lengthy second album of long epic half hour long progressive rock songs called DEAD OF NIGHT, in 1979, and a third album, of shorter songs : TORNADO HOUSE in 1996 (so-called because the house it was recorded in was completely destroyed by an F2 tornado in May of 1996). Tornado House would prove to be the first album to begin to incorporate a lot of synthesizers also. In 1995 Dennis Bergeron of Monster Records offered the band a record deal, but protracted negotiations with that label finally fell apart, after Ellis turned down the offer that was on the table. (Bergeron continued to promote the band and first album through his ROKADROME RECORDS mail order and online store). A string of albums continued on by Crystal Haze Band. The direction became increasingly muddled; but then with the 2018 album ROCKAHOLICS FROM DECATUR, The Original CRYSTAL HAZE BAND returned to their core elements, with a hard core heavy rock album, even more defiant than their first album in 77. Begun in 1975, " Original CRYSTAL HAZE Band "has endured now for over 45 years thus far, This dynamic progressive rock group performs all Original music in a merger of Zeppelinish heaviness mixed with the progressiveness of Rush; coupled with the melodic sensibilities of Queen and Todd Rundgren. ..along with a strange self described mix of "syrupy tunes and Macabre doomish Gothic sounding creepy stuff". They have been an audiophile favorite for many years.
Their first album has fetched enormous prices for unopened copies on the original label, on 33 1/3 rpm, up to almost $900 US for single copies. Bandleader Ellis continues to credit A & M Records' original promotion of the first album for giving the band a permanent place in Rock and Roll, and consequently giving the band the ability to continue for all these years.
Unfortunately, a British pirate company, Acid Nightmare Records, has also released a shoddily recorded knock-off (not using the original masters of course) in England. But the band continues to enjoy enduring popularity among audiohiles in the USA, Europe, and Japan. The band is hoping to have their two other old (previously unreleased albums out in the near future, and has re-released the original crystalhazealbum on digital. Their continuous band website (which has been online since the early days of the internet) is found at http://crystalhazealbum.tripod.com and contains extensive info on band history, current happenings, and alot of their music that you can listen to right there, along with contact info for concert booking. he newer site is at https://sites.google.com/view/crystalhazeband . They continue to write and record an electic mix of music, from prog rock to smoozy ballads, to doom sounding stuff even, these days.(They are still led to this day by Dave Ellis, and are not to be confused with a much later band using a version of the same name from out west...or with an even newer band from Pennsylvania using the name, or various Mexican and European groups using some form of the Name. (Believe it or not...truth is stranger than fiction). Since becoming aware of cover bands using their name, the Band has been careful to often add the term: "The ORIGINAL" to their info to distinguish from the cover bands.) (Other odd trivia about this band is: that Dave Ellis and Greg Bickers were both born on the same day and same year in the same town, and in the same hospital. Also both would each sing and perform music for future Presidents of the USA. Dave would sing and play for Bill Clinton in Harrison Arkansas, and again in Little Rock; and Greg would later sing and perform for Barack Obama in Illinois. Also, in the fall of 1977, while being promoted by A & M Records; the band was at the center of a large supernatural haunting investigation at the A.E. Gastman Auditorium, where they had their larger-than-life rehearsal hall, while preparing their roadshow. The inestigation became an entire chapter in the first "Haunted Decatur" Book by Paranormal investigator and author Troy Taylor, and was also investigated by famous Ghost Hunter Frank Ward of New Brunswick Georgia.) "THE ORIGINAL" CRYSTAL HAZE BAND now has out a total of eighteen ALBUMS, with a number of the songs able to heard on REVERBNATION; SOUNDCLOUD; AUDIOMACK; INDIE MUSIC PEOPLE; and on YOUTUBE.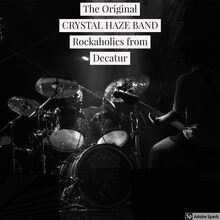 Community content is available under
CC-BY-SA
unless otherwise noted.