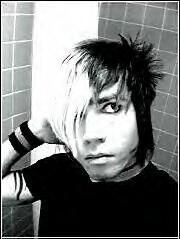 Jade Errol Puget (born 28 November 1973) is the current guitarist for the band AFI. He joined the band in 1998. Before joining AFI, Jade played in various bands, most significantly Loose Change with Chon Travis (which shared a 7" with AFI in 1992 when the bands first started. This 7", titled Dork, was AFI's first vinyl), and Redemption 87.
Jade's recordings with the band include the EPs Black Sails (1999), All Hallows (1999), The Days of the Phoenix (2001), and 336 (2002) and the full length CDs Black Sails in the Sunset (1999), The Art of Drowning (2000), Sing the Sorrow (2003) and Decemberunderground (2006).
Jade's influence as a musician contributed to AFI's change over the years, as is evident from the differences between Shut Your Mouth and Open Your Eyes (1997, pre-Jade) and Black Sails in the Sunset (1999, post-Jade).
Jade shares the Straight Edge lifestyle with Davey Havok, AFI's singer. However, the band itself is not Straight Edge.
Jade has a sister, a half brother named Gibson, and a younger brother named Smith who is AFI's tour manager. Gibson appears in the poem between the end of "...but home is nowhere" and the beginning of This Time Imperfect on Sing the Sorrow.
Jade dropped out of high school at the age of seventeen but still got into UC Berkeley. Jade joined the band after completing college (the rest of the band had quit college in order to continue with the band). He has a bachelor's degree in social theory.
Jade has several tattoos, including an "18" on his arm (which was originally a "13"), a cat jumping through a 9 (a tattoo he shares with Nick 13 of Tiger Army and Davey) and the word "Committed" arched across his stomach. On his arms, he has the words "Boys Don't Cry" (a homage to The Cure) and the words "Love Will Tear Us Apart" (a Joy Division tribute). He sports a bleached "mullet hawk" haircut, as well as some tiny sideburns lovingly dubbed 'Jadeburns' by the fan community.
Jade plays Gibson Les Paul Studio Guitars through Mesa Boogie Dual-Rectifier heads and Marshall cabs. However, he has been known to play a Gibson SG on occasion.
In AFI