Papa Roach is an American rock band.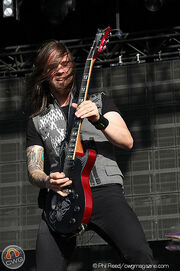 Bios
[
]
Starting out as a punk- and rap-influenced band, the Sacramento, California alt-metal group Papa Roach grew into a straight-ahead hard rock ensemble with strong heavy metal leanings. Consisting of Coby Dick, Jerry Horton, Dave Buckner, and Tobin Esperance, Papa Roach formed in 1993 and began releasing EPs soon after, including 1994's Potatoes for Christmas and 1995's Caca Bonita. By 1996, the group replaced original bassist Will James with Esperance and hired a new manager; the following year, Papa Roach relased their first full-length album, Old Friends from Young Years, which became a surprise hit on local radio. The band's regional success led to more prominent gigs, including dates with Suicidal Tendencies, Sevendust, and Powerman 5000, and a deal with Dreamworks Records, which released Papa Roach's second album, Infest, in early 2000. The album went triple platinum thanks to the success of the single "Last Resort." Two years later, frontman Coby Dick opted to go by his given name of Jacoby Shaddix. A second album, lovehatetragedy, appeared in June 2002. Stylistically, the band had begun to grow beyond its rap-rock roots and the new tracks showcased a slightly more mature, melodic, and straightforward hard rock sound. That same summer the band joined a number of rap acts including Ludacris and Xzibit on Eminem's Anger Management Tour. In 2004, the band released their third studio effort, Getting Away with Murder. Bouyed by the success of the single "Scars," Getting Away with Murder sold well and eventually went platinum. Two years later, Papa Roach began work on their fourth studio album at the infamous and historical Paramour mansion in Hollywood -- once the home of silent movie star Antonio Moreno. Released in fall 2006, The Paramour Sessions also featured a heavy L.A. rock aesthetic. Metamorphosis
"Hollywood whore", the album's first single , became available for download as a music video through the band's official fan club website on October 26, 2008, before being formally released in Canada two days later. In other regions the single and the video are available digitally through iTunes. On November 25, the single became available for digital download in North America.
"Lifeline" is the second single from Metamorphosis, which was released on January 27 to the iTunes store, with a physical release following on February 10, which was a "Hot Topic" store exclusives including a live version of "Getting away with murder" from Papa Roach: live and murderous in Chicago. "Lifeline" was also featured as downloadable content for the music rhythm game Rock Band.
"I Almost Told You That I Loved You" was confirmed by Jacoby Shaddix during live shows to be the third single. A teaser trailer of "I Almost Told You That I Loved You" was released on May 18, 2009, whilst a 2nd teaser of "I Almost Told You That I Loved You" was released on May 27, 2009. The actual single was released on June 1, 2009.
"Had Enough" was confirmed by Shaddix during live shows to be the fourth single. No video was made for it though.
Band members
[
]
Current
[
]
Jacoby Shaddix – Lead vocals
Jerry Horton – Lead guitar, backing vocals
Tobin Esperance – Bass guitar, backing vocals
Tony Palermo - Drums, percussion
Former
[
]
Dave Buckner - Drummer from 1993-2008 recording on all of the band's official releases with the exception of 1994's Potatoes for Christmas. According to a report on harddriveradio.com, Buckner left the band due to substance abuse issues that stemmed from his recently collapsed marriage.
Former Session Members
[
]
Ben Luther – Trombonist who was replaced by Jerry Horton in 1993, while the band was still in its initial formation process.
Will James – Bassist who featured on the band's first record Potatoes for Christmas.
Ryan Brown – Drummer who temporarily filled in for Dave Buckner on the Potatoes for Christmas recording, who was studying art in Seattle.
Albums
[
]
Lovehatetragedy

Getting Away With Murder